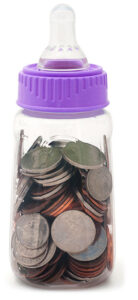 Women and families in Lancaster are counting on YOU!
Fill a bottle—change a life! Our Virtual Baby Bottle Blessings campaign for A Woman's Concern helps women facing unplanned pregnancy to find the hope and support they need to welcome their babies into the world. It's easy to participate using your credit or debit card, so you can participate in your church's annual Baby Bottle Blessings campaign online.
Your giving is making a positive difference for the women and children of our community.
Please wait a moment for our giving form to load. If the form does not load, please refresh the page.